Planning to change your engine oil? Like many, you would be lost in finding the best engine oil for bikes.
Not to mention an engine is the most crucial component of an automobile. Maintaining it is as essential as washing and refueling the bike. 
Remember every other bike engine has its own need to be taken care of. What would be best for Suzuki may certainly not be good for Harley.

Never go for any random brand just because you like the name. Here we have listed 10 Best Engine Oil For Bikes.
The following recommendation is based on what our community of Street Bikers has to say which consists of 100k+ riders.

The feedback from riding hundreds of miles testing every other motor oil in the market. Has helped us find the best of the best engine oil for your ride.
Quick Links:
#1. 10 Best Engine Oil for Bikes.
#2. Types of Engine Oils.
#3. Popular Engine Oil Brands (Infographics).
#4. Tips on Changing Engine Oil.

---
10 Best Engine Oil For Bikes
#1. Motul 4T 5100
Motul has come up with a synthetic mix (Technosynthese) using ester 4-Stroke engine oil. Ester technology provides smooth shifting, improved shear resistance and high-temperature resistance.
This engine oil is suitable for bikes from brands such as Hero, TVS, Royal Enfield and Bajaj. Motul 4T 5100 Oil maintains standard viscosity grade as suggested by motorcycle manufacturers worldwide.
Motul 4T line is formulated to meet the manufacturer's specifications with regard to JASO (Japanese Automotive Standards Organization) and API (American Petroleum Institute) criteria.
According to Ester, 5100 line ensures anti-wear and equipment protection, in addition to enhanced oxidation resistance and extends engine life.


#2. HP Racer4 Synth
HP Racer4 Synth is a super High-quality motorcycle engine oil prepared on Synthetic Technology with the most innovative additive chemistry.
The synthetic Technology in HP RACER SYNTH is the Secret to providing better fuel efficiency, lower petrol consumption, and superior film strength while lubricating the bikes that are modern with higher power Densities.
The engine oil boosts the performance in producing excellent engine operation protection to the motor and transmission while ensuring a smooth clutch operation which is vital for rapid pick-up.
HP RACER SYNTH significantly surpasses the requirements of the best engine oil for bikes such as Hero MotoCorp, TVS, Bajaj, Honda, etc.

#3. Shell Advance AX7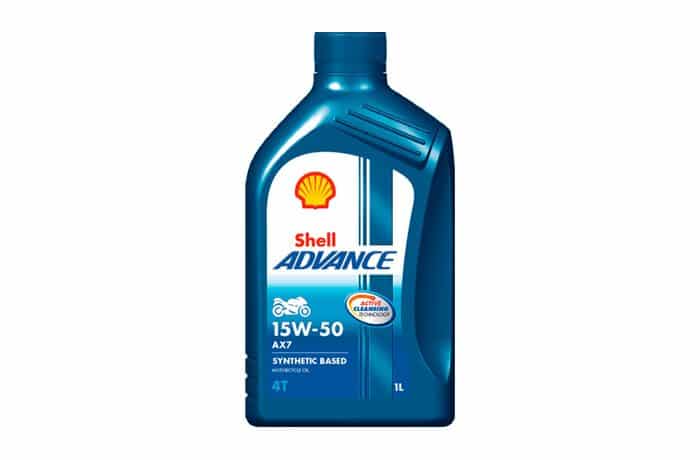 Shell Advance AX7 is a perfect engine oil for performance motorbikes. Even under stressful conditions, it helps to ensure your engine produces high power and torque, enhancing performance and improving comfort and control.
Shell Advance AX7 is formulated with Shell Active Cleansing Technology which helps stop dirt particles sticking together to form a deposit.
Motor oil enhances the bike to delivers more power and response. It helps in reducing engine noise and vibration. While Protecting and prolonging engine life of your motorcycle.

#4. Mobil Extra 4T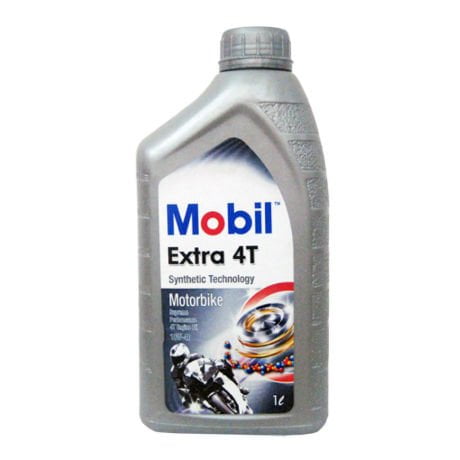 Mobil Extra 4T is a high performance, semi-synthetic oil with blend technology. Particularly for four-stroke bike engine optimization, developed to provide boosted protection and engine cleanliness for all types of operation and motorbikes.
Mobil Extra 4T combines a unique blend of premium excellent mineral and synthesized hydrocarbon base oils with an advanced additive system to provide excellent engine cleanliness, wear protection and effective corrosion prevention.

#5. Castrol ACTIV 4T
New and enhanced Castrol Activ 4T comes with Active-bond molecules which cling to the engine to offer protection through all stages of a journey.
At start-up, the Exceptional Actibond molecules minimize warm-up wear and provide 75% better use protection. Castrol Activ with Acti-bond molecules clings to engine parts, for rust protection even when the engine is off.
While the engine is functioning, deposits develop with time which affects the engine performance.
However, Castrol Activ fights with deposits, supplying superior engine cleanliness resulting in smooth running of the engine.


#6. Mobil 1 V-Twin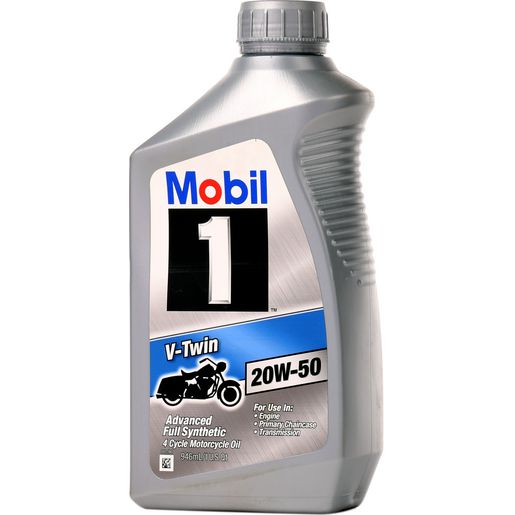 Mobil 1 V-Twin engine oil for bikes is formulated to offer high protection to four-cylinder motorcycle engines, particularly those that tend to run hotter and are air-cooled such as cruiser bikes.
Mobil 1 engine oil is optimized to help the suitable frictional features necessary for common engine transmission systems to get the most out of a wet-clutch performance.
The engine oil helps to Enhance lubrication which helps to preserve maximum acceleration and power over the life of the engine.

#7. Castrol POWER1 Racing 4T 10W-40
Castrol POWER1 Racing 4T is created with Race Derived Technology predicated on Castrol's long and successful racing association. Which flows fast and remains powerful, reducing internal engine friction at tough riding conditions.
POWER1 Racing 4T is a fully synthetic 4-stroke engine optimization engine oil for modern, higher performance sports bikes that increases engine acceleration and power up to maximum rpm.
Castrol engine oil is specifically designed for bikers who love the exhilaration of riding beyond the limitation.
It's been tested and proven to deliver power and acceleration making it one of the best engine oil for bikes. Functionality protection is ensured by Castrol Trizone Technology.


#8. Motul 300V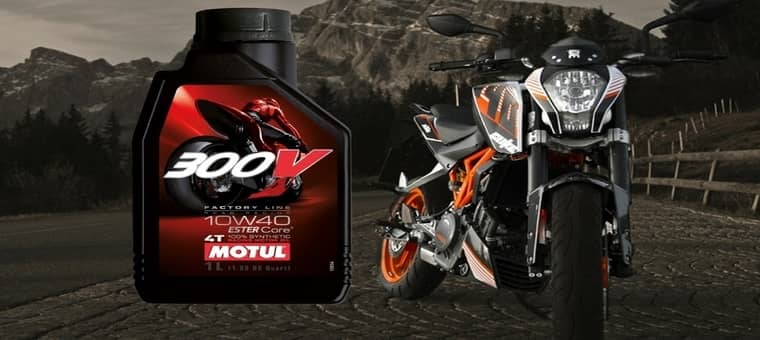 Motul 300V Factory Line lubricant takes benefit of the ESTER Core Technology to make sure with the maximum power output of the motorbike without compromising the wear and reliability of the engine.
300 V is best for race bikes with 4 stroke engine gearbox, dry or wet clutch, race engines operating at high Rpm, such as racing bikes, dirt bikes, etc.
Exceeds all manufacturer's standards and specifications. Motul 300V engine oil is terrific at handling heat resistance and stability.


#9. Mobil 1 Racing 4T
Mobil 1 Racing 4T unites high-performance synthetic base stocks and a just balanced element method that will help provide outstanding engine cleanliness, Superb wear protection in elevated temperatures and highly efficient protection against corrosion.
.
Use of Mobil 1 Racing 4T will help to maintain energy output due to the inherently powerful performance and protection which is supported by synthetic technology.
This motorcycle engine oil will help to produce performance under severe conditions in All Seasons, riding surroundings, from city traffic to race tracks.


#10. Motul 7100 4T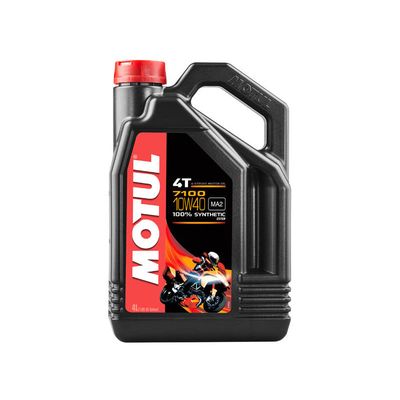 Fully Synthetic with ester 4-Stroke motor oil. Formulated to meet with the latest in bike manufacturer specifications with relation to API and JASO.
Designed with the perfect synergy for less petroleum consumption, reduced engine internal friction and extreme pressure performance, for much greater power.
Motul 7100 4T is highly recommended for heavy engines, twin-engine, oil-cooled, air-cooled or liquid-cooled engines.

---
NOTE: Before you step into finding the right engine oil for your ride. It's better to know about the types of engine oil. Also, make sure to refer your bike's service manual for any information related to the engine oil required for your bike.  

3 Primary types of Engine Oil:
#Mineral Oil
Mineral oil is usually poured into brand new bikes. This oil is of the lowest grade. Then Why do we use it, you may ask?
Well, That's to ensure proper mating of the running portions of the engine. The oil acts like sandpaper and polishes the metal parts on the inside making it smooth.
It is a significant part Of the run-in period. It is eliminated in the first servicing around 1000 km. You may notice metal parts in the lost oil.
#Semi-Synthetic Oil
After the initial run-in of the motor vehicle, Semi-Synthetic Oil is used. It is the moderate grade oil which degrades slower in comparison with mineral oil.
Retains it's vicious and cooling properties more than any other motor oils. This kind of oil usually degrades over quite a while.  Semi-synthetic engine oil when used in heavy bikes will cause them to warm up and wear down prematurely. 
#Synthetic Oil
Synthetic oils are usually utilized in large revving motorcycles and hyperbikes. You should keep in mind that using fully synthetic oil in a low revving torque engine will rob it of its punchy acceleration because of its extra smoothness.
Therefore it is, evidently, the most expensive best engine oil for bikes. Your bike's motor performance and endurance substantially increase with use.
---


Tips On Changing Engine Oil:
1. Start your engine and leave it idle for about 5 to 10 minutes, before draining the oil out of the motorbike.
2. If you are using mineral-based oil, change it every 3000 kms.
3. If you are running fully synthetic engine oil then change it every 8000 – 10,000 kms.
4. If Semi-Synthetic oil is used, consider changing it between 4000 – 5000 kms.
4. Always make sure to use the correct grade and service rating for your bike.
6. Check your bike's manual guide for API and JASO recommendations.

7. You riding style matters a lot when it comes to changing the motor oil. If you regularly ride at full throttle, it's a good idea to change the oil way before the deadline.
8. If the bike is not used frequently and is well maintained, you can go a few extra miles.
9. Changing oil depends on your usage. For example, riding 150 kms in a single day gives more stress to the engine as compared to riding 5 kms every day for a month. Covering hundreds of kilometers at once tends to degrade the motor oil faster.
10. Changing the drain plug once a while is a good way to prevent unwanted oil leaks.
11. Always go with engine oil grading rather than going with the brand name. Remember all brand engine oils are quality certified by API and JASO.
12. To get the best performance from the bike, always change the oil filter every time you change the engine oil.